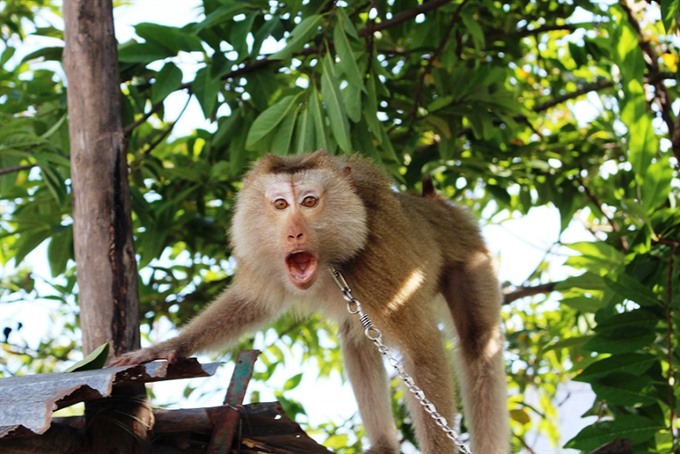 An endangered monkey held captive. – Photo courtesy of ENV
Viet Nam News
HÀ NỘI – As many as 521 endangered wildlife animals were saved in Việt Nam in 2018 thanks to the engagement of people and law enforcement agencies, NGO Education for Nature-Vietnam (ENV) announced on Monday.
Up to 1,666 wildlife-related violations were also detected, of which 64 per cent involved illegally in advertising and trading endangered animals and products made from them.
To avoid law enforcement agencies, traders use the internet as an exchange platform to commit the crimes.
ENV recorded 800 wildlife violation cases on the internet, with more than 1,200 links showing signs of violation.
In September 2018, Bá Thước District Police in the central province of Thanh Hoá seized a 12-litre bottle of alcohol with two bear legs inside. The bottle was advertised on Facebook.
A week later, two other people were also arrested for selling bear alcohol.
According to ENV, keeping illegal endangered animals captive and storing wildlife products remain common practices, especially with monkeys, bears, tigers and sea turtles.
Last year, the organisation's hotline (1800-1522) received 819 wildlife violation reports. 65.5 per cent of these cases were resolved, up from 48 per cent in 2017.
Some owners voluntarily handed over animals to sanctuaries.
Nguyễn Thị Phương Dung, ENV's deputy director, stressed the importance of proactive engagement of the society in protecting endangered species and fighting against wildlife violations.
"Via the hotline at 1800-1522, ENV expects to become a bridge connecting people and law enforcement agencies to receive reports of wildlife violations as well as voluntary handovers," she said. – VNS