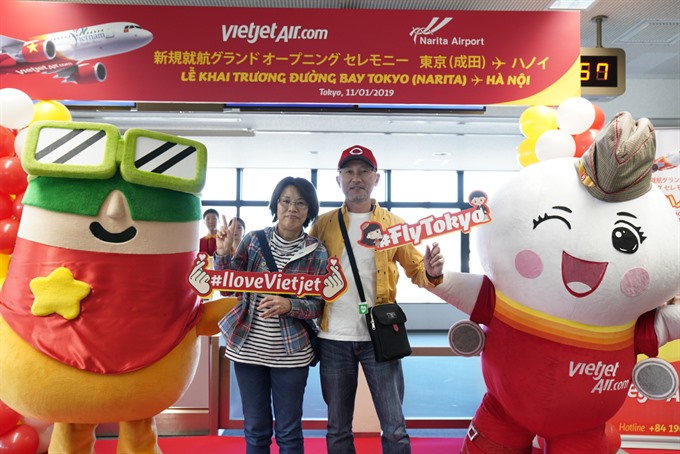 Viet Nam News
HÀ NỘI — New-age carrier Vietjet launched a service connecting Hà Nội and Tokyo on Friday.
"This is our third route between Việt Nam and Japan, aiming to not only meet the rising demand for air travel, but also contribute to the development of tourism, trade and cultural exchange between the two countries," Vietjet said in a statement.
"The launch of this new route offers a new travel option for people and travellers from Tokyo, and the Kanto region in general, to Hà Nội, the capital city of Việt Nam, from where they have easy access to many famous destinations in the country," Đỗ Xuân Quang, Vietjet's vice president, said during the launch ceremony.
Quang added that the people from the two countries and international tourists can also effortlessly transit to other ASEAN countries or destinations across the North Asia region with Vietjet's comprehensive and constantly expanding flight network.
The Hà Nội-Tokyo route operates daily return flights with a flight time of around six hours per leg. Previously, Vietjet launched two direct routes to Japan, including Hà Nội-Osaka on November 8, 2018 and HCM City–Osaka on December 14, 2018.
For the newest route, Vietjet and Japan Airlines have co-operated to offer a code-share flight service. The two airlines' code-share service is also applied to Vietjet's domestic routes, including Hà Nội-HCM City, Hà Nội–Đà Nẵng and HCM City–Đà Nẵng.
With a network comprising 39 domestic routes and 66 international routes, Vietjet operates safe flights with a technical reliability rate of 99.66 per cent – the highest rate in the Asia Pacific region.
As a fully-fledged member of International Air Transport Association (IATA), Vietjet has obtained the IATA Operational Safety Audit (IOSA) certificate and has been awarded a 7-star ranking, the world's highest rating for safety, by Airline Ratings. — VNS