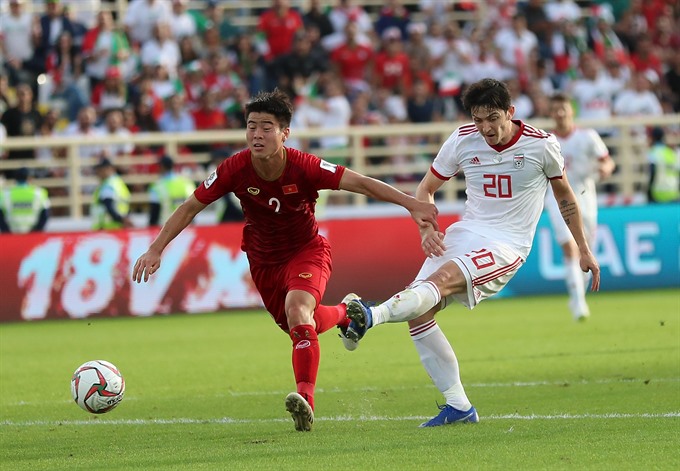 Viet Nam News
HÀ NỘI — Việt Nam have been left with a mountain to climb to qualify for the knockout stages of the AFC Asian Cup.
In their second group game, they lost 0-2 against Iran at the Al Nahyan Stadium in Abu Dahbi, the United Arab Emirates.
After an earlier 2-3 defeat versus Iran in their opening game, coach Park Hang-seo knows the next match against Yemen is a must-win game.
Even then, he needs to hope and pray other results go in his favour for Việt Nam to qualify for the knockout stages.
Despite losing their first two games, a high scoring victory in the final group match could see Việt Nam progress – if results go their way.
The top four teams that finish in third place will be given spots in the knock-out stages.
On Saturday night, Việt Nam were not out-played but more a case of out-muscled.
Iran, managed by former Manchester United number two Carlos Queiroz, were far more physical from the outset, leaving the Golden Dragons struggling to get a foothold on the game.
In training earlier this week, Park had worked endlessly on dead-ball situations, but both Iran goals came from open play.
Their first came on 38 minutes.
After good work down the right hand side, a cross was pinged into the box and with the Việt Nam defence seemingly asleep, Sardar Azmoun was unmarked just a few yards out and free to head home.
After the break, Azmoun doubled the lead on 70 minutes.
The ball was fed through to him on the edge of the box, and after neat foot-work he struck a left-foot shot into the bottom corner.
Việt Nam goalkeeper Đặng Văn Lâm will be disappointed he never made more of an effort to prevent the goal when he watches the replay.
Before the opening goal, Việt Nam did have chances to break the deadlock.
As early as five minutes, defender Đoàn Văn Hậu burst down the right wing but Nguyễn Trọng Hoàng was unable to finish from his cross into the box.
A few minutes shy of the half hour mark and Hậu found himself in a good position inside the Iran box but his shot went wide.
After Iran went two goals up, Việt Nam went on the attack, knowing that extra goal could make all the difference when it comes to the latter stages of the competition.
As the clocked ticked towards the 90 minutes mark, Nguyễn Quang Hải had the opportunity to test the Iran keeper with a free-kick from the edge of the box.
But his effort was disappointing, straight into the arms of the opposition number one.
With just two minutes left on the clock, Hải found himself in a good position a few yards from goal, but with a strong Iranian defence in front of him, Hai could only steer his effort wide of the post.
After the match captain Hải said: "Iran are a strong team. They are number one in Asia.
"They showed their level in this match despite us doing our best. We are proud of our performance and our spirit.
"Many people will think Yemen are a weak team, but we do not. No matter who we play in this competition we will show them respect. In the last match, we will try our hardest to beat the team and qualify for the knockout stages."
Iran currently top Group D with six points after two games. Iraq are second with three points followed by Việt Nam and Yemen are yet to add to their points tallies.
Việt Nam will play Yemen on Wednesday evening at 11pm Hà Nội time.
They know only a win will do and then hope their goal difference is enough to see them through to the next stage. — VNS