The journey of a Mông minority to a brighter future
Viet Nam News
HÀ NỘI — At the age of 24, Khang A Tủa, an ethnic Mông minority, has become one of 54 first students of the Fulbright University Vietnam (FUV).
Tủa's journey from his hometown in Mù Cang Chải remote mountainous district of Yên Bái Province is one of difficulties and different levels of emotion. As a reward, Tủa and his classmates received full scholarship, including school fees and accommodation for their co-design school year at FUV.
The FUV, one of the country's first private, nonprofit institutions of higher education, has commenced its co-design school year with 54 students recruited from across the nation.
The recruitment was conducted carefully with multiple rounds of interviews.
The co-design year is one academic year when leading faculty members and staff from around the world are to be joined by the students to experience and refine Fulbright's undergraduate programme.
These 54 students will receive the FUV Founding Scholarship and be guaranteed a spot in FUV's inaugural class in the fall of 2019.
Outstanding student
Tủa was born in a poor family with six children. Tủa's parents brought them up with a small piece of field and a flock of chicken.
Although they are poor, Tủa's parents pay much attention to their children's schooling. All of their children could go to school. Graduated from primary school, Tủa was one of five students of the commune winning seats at the district's boarding junior secondary school.
Most of the students at the junior secondary school were ethnic Mông minorities who regularly used their group language, thus at that time Tủa's Vietnamese was quite bad. But Tủa was a good student. Graduated from the junior secondary school, he was one of four outstanding students of the district winning seats at the Việt Bắc High School in Thái Nguyên City. It was also the first time Tủa left his hometown to go to a city.
Tủa quickly improved his Vietnamese after one term at his new school. When he was at grade 11, Tủa won a prize at a provincial Physics competition for outstanding students. He dreamt of entering a university to escape from poverty.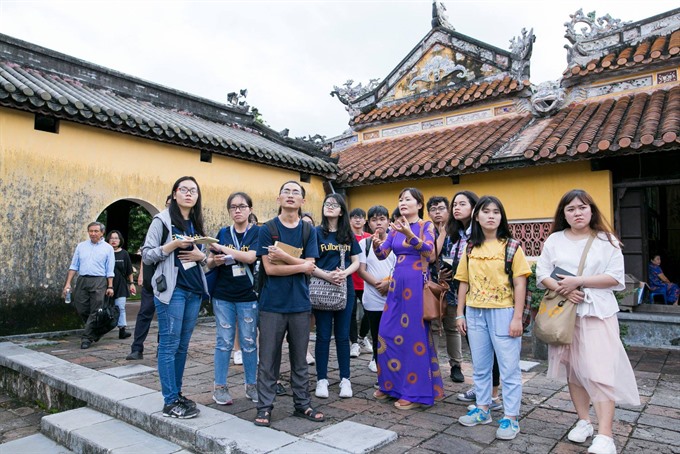 Khang A Tủa (third left) joins a study programme on Việt Nam's culture organised by the Fulbright University Vietnam. — Photo tuoitre.vn
Returning home
Tủa registered to the environment faculty of the Hà Nội University of Science and Technology in 2013.
At that time, Tủa wanted to develop tourism and economy in his hometown, as well as protect the environment.
However, Tủa's house is in a remote area and his parents' income was dependent on agricultural work, thus they did not have enough money for Tủa to study in Hà Nội. Moreover, Tủa had brothers who were also going to school. If Tủa studied in Hà Nội, they might have to quit school.
"Should I come back to hometown to work and go to university later?" Tủa asked himself.
With the thinking, when his classmates were absorbed in revising for university entrance exam, Tủa packed up his personal belongings to return home. He used his savings to buy two goats with plan of raising them to earn money and helping his parents.
Refinding himself
As the day of university entrance exam came near, Tủa's teachers and parents encouraged him to take the exam. Tủa passed the exam to enter the Hà Nội University of Science and Technology.
But during the very first days at the university, Tủa found that he was not suitable to the major. He was weary and thought that going to class was his duty only, not his happiness.
To escape from his boredom, Tủa joined ethnic Mông associations with students from other universities in Hà Nội and participated in their social activities. Thanks to the activities, Tủa gained his joy and realised that he was not a useless man.
"After one year of joining social activities, I found that I was suitable for the work, I have grown up with the work and understand what I want to do," said Tủa.
Thus after two years of studying at the Hà Nội University of Science and Technology, Tủa decided to quit the school to focus on his projects of social activities.
During the period 2016-18, Tủa worked as coordinator of the group action for the development of the Mông community. Besides, he joined projects on Mông people's Tết holiday, Mông people's legend, and teaching English free of charge for ethnic minorities in Hà Nội.
Big dream
While conducting his projects of social activities, Tủa also talked about tourism's bad effects on local residents.
An enrolment worker of the FUV also attended his talk. Knowing Tủa's story, the worker encouraged Tủa to apply for the FUV.
Tủa's first interview with the university was a talk about what he cared about. Tủa talked about his group's culture, what he met, what he had done. His English was not fluent enough, but he was convincing. And he was in.
At this university, Tủa found interest in every subject, and every exercise thanks to their openness. Tủa can integrate and uphold his capacity.
Speaking about his future plan, Tủa said that he wanted to do some useful things for his community and village. He wanted to create an opportunity for ethnic minorities children to access to more knowledge.
"Each person has a mission in life. We cannot protect children everywhere and every time, but can supply them with knowledge and skill to protect themselves," said Tủa.
Chu Thị Nga, Tủa teacher at the Việt Bắc High School, said, "I was impressed because Tủa is a small boy but brisk with bright eyes. Tủa is one of the two students with the most difficult living condition in my class, but he was always confident."
Seeing Tủa's achievements, many people could be surprised, but if they kept close watch on Tủa's every developing period, they would understand why he could reach success, she said.
"Confidence, patience and dream bring Tủa opportunity to confirm himself," said Nga.
Lê Thị Quỳnh Trâm, director of enrolment and finance support of the FUV, said, "Tủa impressed the enrolment council with his desire of contributing to the community and his leading capacity via his meaningful social activity projects."
Tủa expressed his energy when he determined to pursue which he believed in, said Trâm. — VNS