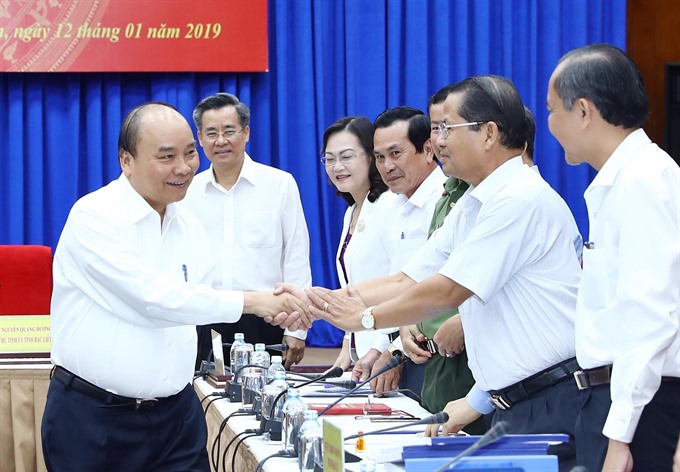 Viet Nam News
HCM CITY — Prime Minister Nguyễn Xuân Phúc had a meeting with authorities in the Mekong Delta province of Bạc Liêu in HCM City on January 12 to evaluate its socio-economic performance and discuss a number of major projects in the locality.
After three years implementing the resolution adopted at the 15th provincial Party congress, Bạc Liêu's gross regional domestic product (GRDP) has grown 6.74 per cent per year on average and 8.36 per cent in 2018, the highest since the beginning of the tenure.
Per capita GRDP has reached VNĐ42.05 million per year, rising by an average 9.87 per cent per year.
Bạc Liêu has made renewable energy, including wind, solar and gas-fired power, one of the five key pillars of the province's socio-economic development. The province has put Bạc Liêu wind power plant into operation for the first and second phases, with total power generated so far reaching 639 million kWh.
The province plans to launch four more wind power projects with total capacity of 320MW soon, while asking for permission to include a number of other solar and wind power projects into power development plans.
Particularly, the province has lured a US$4.3 billion liquefied natural gas (LNG)-fueled power project with a capacity of 3,200MW.
Bạc Liêu has submitted a proposal on adding the project into the National Power Development Plan to 2020.
Recognising the importance of the project, PM Phúc asked the Ministry of Industry and Trade to work with relevant agencies to give a final conclusion on it, while requesting Bạc Liêu and other ministries and agencies to coordinate with the investors to evaluate and launch the project when all necessary requirements and conditions are met.
He lauded the province's socio-economic performance so far, with budget collection reaching VNĐ3.2 trillion in 2018 thanks to local efforts to expand hi-tech shrimp farming and attract investment, especially in power.
In the future, the PM asked Bạc Liêu Province to design action plans to implement the Government's resolutions on socio-economic development and business environment improvement with targets higher than those in 2018.
Bạc Liêu should work harder in climate change response and design measures to prevent river bank and coastal erosion, he said.
The Government leader also advised Bạc Liêu to focus on boosting the shrimp sector's growth with a goal of $1 billion in export revenue, along with developing tourism and services and luring more green power projects.
At the working session, the PM also responded to the province's proposals regarding coastal erosion and flooding on national highways and the northern section of Highway 1A. — VNS