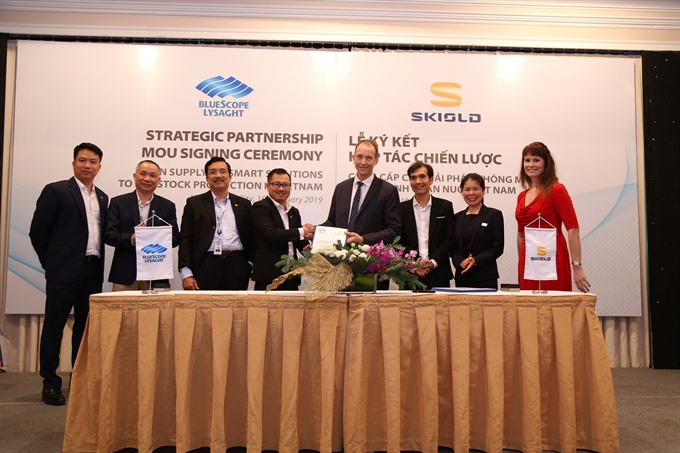 NS BlueScope Lysaght Vietnam and Danish company SKIOLD sign a MoU on the development of smart solutions for livestock production in Việt Nam on Thursday. — Photo courtesy of NS BlueScope Lysaght Vietnam
Viet Nam News
HCM CITY — NS BlueScope Lysaght Vietnam has teamed up with Danish company SKIOLD to develop solutions for poultry and livestock farming as part of a strategic partnership memorandum of understanding (MoU) signed on Thursday.
Under the MoU, the two companies will work together to develop advanced solutions for Việt Nam's poultry and livestock farming market to increase efficiency and productivity through providing comprehensive solutions, market development, customer service and marketing activities.
"The new strategic partnership will contribute to developing effective solutions for Việt Nam's poultry and livestock farming in an effort to improve our competitiveness in both domestic and international markets," said NS BlueScope Lysaght Vietnam director Nguyễn Cao Trí.
"Our solutions provide optimal nutrition control and traceability, thereby providing farm owners access to hightech-agriculture farm models from developed countries and improving investor's productivity and profits," added Trí.
"The partnership with NS BlueScope will open more opportunities for us to provide valuable projects for the emerging Vietnamese market. We will provide the best solutions for the Vietnamese market in terms of high productivity, food safety and traceability following international standards," said Jens Vinther Jensen.
NS BlueScope Vietnam launched Lysaght Agrished solutions in 2015 to offer complete solution for breeding facilities and central control systems. Lysaght Agrished has been installed by more than 20 big farms of leading groups and companies in Việt Nam such as Thái Dương, CP, Phú Gia, CJ and Red Star.
Việt Nam currently is one of SKIOLD's most important markets. The company has developed many pig farms, grain and paddy rice processing plants and animal feed mills for well-known Vietnamese companies, such as Vinamilk, Hòa Phát Group, CP Vietnam and TH True Milk. — VNS