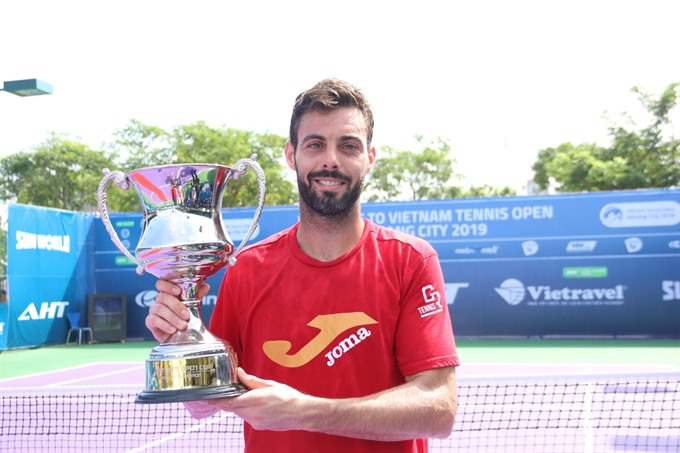 Marcel Granollers from Spain lifts the trophy at the Việt Nam Tennis Open Đà Nẵng City 2019 on January 12. He cruised to a 6-2, 6-0 win over Italian Matteo Viola in the men's singles final. — Photo courtesy Việt Nam Tennis Federation
Viet Nam News
ĐÀ NẴNG — Top seed Marcel Granollers from Spain triumphed at the Việt Nam Tennis Open Đà Nẵng City 2019 on Saturday after an easy 6-2, 6-0 win over Italian Matteo Viola in the men's singles final.
Marcel, who is 96th in the Association of Tennis Professionals (ATP)'s ranking, cruised a 6-2 win in the first set before taking the second with score 6-0 and lifting the trophy.
The Spaniard was awarded US$7,000 in prize money and 80 bonus points for his ATP's ranking.
In the men's double final, Cheng Peng Hsien from Chinese Taipei/Christopher Rungkat of Indonesia beat Leander Paes of India/Mexican Miguel Angel Reyes Varela 3-6, 6-2, 11-9 to win title.
Having won 6-3 in the first set, Cheng and Rungkat couldn't continue their momentum losing second set.
The men's double final had to decide by tie-break series when Cheng and Rungkat edged out the opposition after a tense 11-9 victory.
The double winners also took a $3,100 cash prize and 80 bonus points in the ATP rankings.
Top Vietnamese player Lý Hoàng Nam was awarded three points in the ATP ranking and a $520 cash prize for his first-round win over German Daniel Altmaier 6-4, 4-6, 7-6
It's the first time the central city hosted ATP Challenger Tour with 48 players in the top 300 of ATP rankings taking part. — VNS