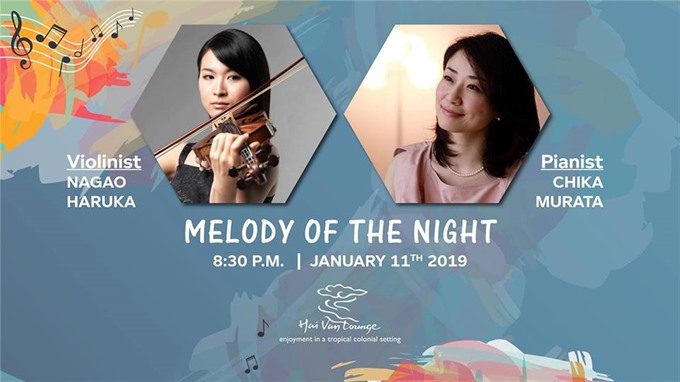 Japanese violinist Nagao Haruka and pianist Chika Murata will perform in a one-night event of enchanting classical melodies at Hải Vân Lounge on January 11.— VNS Photo Ngọc Thành
Viet Nam News
ĐÀ NẴNG — Japanese violinist Nagao Haruka and pianist Chika Murata will perform one night of classical melodies at Hải Vân Lounge in Đà Nẵng with free entrance on Friday.
The event's organisers said the performance offers a chamber music entertainment experience for local residents, Japanese expats living in the city and tourists.
Murata has played as a chamber musician with many prestigious artists and groups, including Rainer Honeck, Takumi Kubota, Kiyoshi Okayama and Seiki Shinohe and has performed across the world.
She has won the Okuwa cultural prize, Wakayama City cultural prize, and Wakayama Prefecture cultural prize.
Violist Haruka won the first prize in Gianluca Campociaro International Music Competition, Italy in 2016 and third prize at the Dominique Peccatte International Competition, France.
She also co-starred in violin concertos with the Tokyo Symphony Orchestra, Japan Philharmonic Symphony Orchestra, Orchestra Philharmonique de Radio Feance, Omaha Symphony and the State Chamber Orchestra of Armenia.
The performance will start from 8.30pm at the lounge on Võ Nguyên Giáp street along Mỹ Khê beach. — VNS