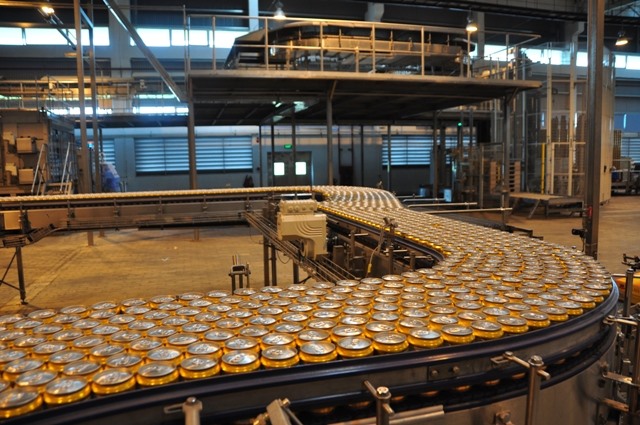 A beer production line at Habeco's Hà Nội-Mê Linh beer factory in the capital. – Photo congnghieptieudung.vn
Viet Nam News
HÀ NỘI — The Hà Nội Beer Alcohol and Beverage JSC (Habeco) has set a revenue target of more than VNĐ12 trillion (US$515 million) in 2019, 9 per cent higher than last year's figure.
The brewer will also contribute above VNĐ5 trillion ($215 million) to the State budget, Habeco's General Director Ngô Quế Lâm said at a conference to review the company's performance in 2018 and outline tasks for 2019 in Hà Nội this week.
In order to reach the goal, the company planned to upgrade its production line at its Hà Nội-Mê Linh beer factory to churn out more products to serve customers in the hi-end market segment while expanding the factory's production capacity, baodautu.vn reported.
Ending 2018, Habeco reported total revenue of nearly VNĐ11.1 trillion ($476 million) and paid more than VNĐ4.64 trillion ($200 million) into the State coffers.
Last year, Habeco focused on advertising its product to local customers through re-installing its vending machines and organising events such as the Hà Nội Beer Festival which was held in five cities with the participation of more than 70,000 visitors.
Headquartered in the capital, Habeco is the largest beer producer in the north and the third-largest beer company in the country. It owns 17 subsidiaries and six affiliated companies, with total production capacity of over 800 million litres of beer per year. — VNS