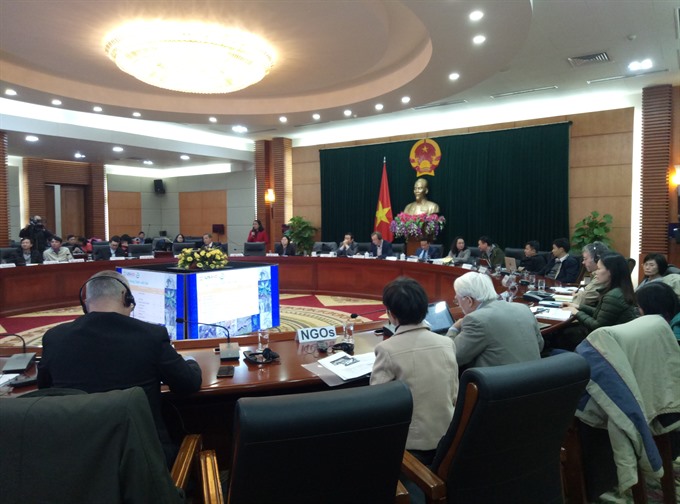 Viet Nam News
HẢI PHÒNG — The leadership committee of the Hạ Long-Cát Bà Alliance (HLCBA) met on Wednesday in the northern coastal city of Hải Phòng to discuss pollution in the World Heritage Site of Hạ Long Bay.
Organised by the International Union for Conservation of Nature (IUCN), the meeting focused on tackling tourism and waste management issues.
A report by the IUCN released at the meeting revealed that in July last year, at the request of the northern coastal province of Quảng Ninh's People's Committee, the IUCN ran an advisory mission by two international specialists to assist tourism management and environmental protection in the bay.
The report said after a four-day visit and meetings with authorities, the two consultants, Janet Mackay, Director of Tourism Recreation Conservation Consultants and Wim Vrins, a solid waste management specialist, found though the geological values of the site were not threatened, more visitors and shoddy management would threaten its outstanding values.
The consultants urged action to solve plastic and wastewater pollution.
They proposed measures to improve awareness of tourists and minimise tourism impacts, like a centralised booking system.
The mission identified tourism and urban development around the site that threaten its aesthetic values, including large-scale residential and holiday accommodation, attractions and support services.
"More importantly, if a boundary realignment occurs as part of the proposed re-nomination the Hạ Long Bay World Heritage to include the Cát Bà Archipelago, it will need to be accompanied by strict planning controls to ensure no further damage to the site's natural beauty," read the report.
The mission concluded that Hạ Long Bay Management Board lacks the authority to carry out its day to day functions, including enforcing environmental regulations.
Environmental campaigners have warned that a rapid increase in tourist numbers and environmental pollution along with weak management are threatening the reputation of Hạ Long Bay and other destinations in Việt Nam.
The 2017 Global Travel and Tourism Competitiveness Report showed that Việt Nam's environmental sustainability ranked 129th out of 136 countries, with very low scores for wastewater treatment, coastal and forest conservation.
Other topics discussed in Hải Phòng included the need for action by Hải Phòng City and Quảng Ninh Province to tackle solid and wastewater pollution, preparations of a dossier to expand Hạ Long Bay World Heritage Site to include Cát Bà Archipelago and a new IUCN initiative to enhance business engagement in environmental protection. — VNS