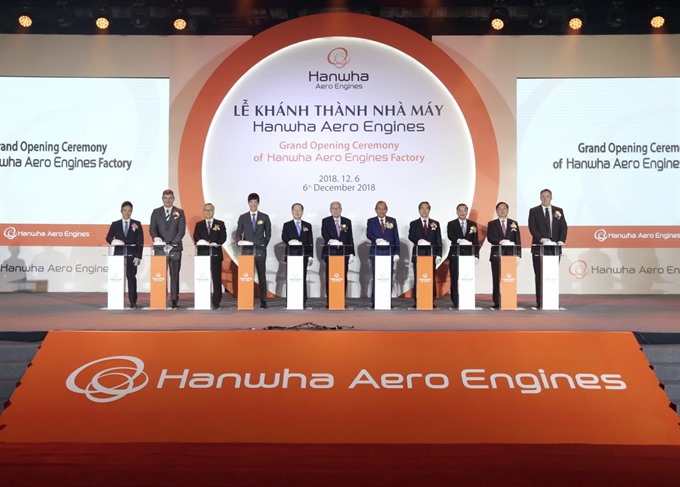 Viet Nam News
HÀ NỘI — Hanwha Aero Engines Company Limited, a member of the Republic of Korea's Hanwha Group, inaugurated the first of three planned aviation engine parts plants in Hà Nội's Hòa Lạc Hi-tech Park on Thursday.
The Hanwha Aero Engines factory project was granted an investment registration certificate by Hòa Lạc Hi-Tech Park Management Board with a total investment capital of US$200 million. Construction started on September 21, 2017 on a total area of nearly 97,000 sq.m.
Speaking at the launching ceremony, head of the Party Central Committee's Economic Commission Nguyễn Văn Bình said he hoped the Hanwha Aero Engines plant would become a role model for how to transfer technology from the Republic of Korea's enterprises to Việt Nam, thereby opening up access to key technologies and enhancing technological capacity for Việt Nam.
Minister of Science and Technology Chu Ngọc Anh appreciated the co-operation of the investors and the Management Board of Hòa Lạc Hi-tech Park in completing the work of the project as scheduled. The minister also requested the Management Board continue to support the investor in production and business activities in the coming time.
Hanwha Aero Engines factory already has an order worth $40 million and plans to launch the first products in January 2019. The plant targets $400 million in revenue by 2023.
"The launch of this factory is evidence for the co-operation between the two countries," Hanwha Group's chairman Kim Seung Yeon told Việt Nam News. "I hope Hanwha Group and Việt Nam will hold hands to create aviation breakthroughs for the world."
Founded in 1952, Hanwha Group is one of the largest business conglomerates in the Republic of Korea. The group operates in four business areas – explosives, defence, trading and machinery.
In recent years, Hanwha Group has invested in Việt Nam with projects in Bắc Ninh, Long An, Hà Nội and HCM City with a total investment of about $1 billion, and made significant contributions to the development of Việt Nam.
This year, Hòa Lạc Hi-tech Park granted investment registration certificates to 10 projects with a total registered capital of nearly VNĐ15.86 trillion ($677.56 million).
To date, 87 projects are in Hòa Lạc Hi-tech Park with a total investment capital of VNĐ78 trillion. — VNS