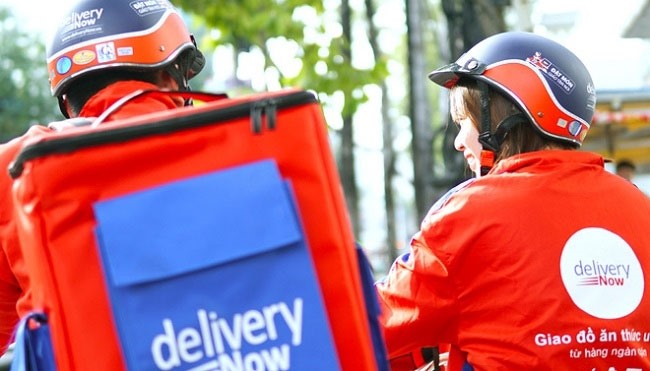 Viet Nam News
HÀ NỘI — The Vietnamese delivery market, especially food, is at a year long high with many new businesses and services profiting.
According to market research firm Euromonitor, the sector has grown around 15 per cent per year in Asia. In Việt Nam, the food delivery market is currently valued at US$33 million and may exceed $38 million by 2020.
The percentage of users of food delivery services has also increased rapidly, although it is limited to urban areas where a large number of office workers are employed .
According to statistics from the Association of Vietnamese Retailers, only 30 per cent of urban residents used food delivery services in Hà Nội and HCM City last year, but this number has risen to more than 70 per cent in the first six months of this year.
Nguyễn Mạnh Hùng, manager of Cowboy Jack's Tây Sơn restaurant, told Việt Nam News the restaurant was using Now and Lala delivery services.
"These applications help our restaurant find more customers so that we can sell more food," said Hùng.
These kinds of apps not only benefit large restaurants but also small or street food establishments.
The owner of Phở Chiên Giòn restaurant at 206 Khâm Thiên Street, told the Thời báo Kinh tế Sài Gòn Online (Sài Gòn Economic Times Online), the restaurant registered the service via the GradFood app. As a result, the restaurant had to recruit more staff but sales and customers increased.
The online newspaper quoted Jerry Lim, director of Grab Việt Nam, as saying the number of customers and stores participating in the GrabFood has increased.
Online food delivery in Việt Nam has been operating for several years through Vietnammm.com, and GrabFood.
The Now app has the widest coverage in the country nationwide including Hà Nội, HCM City, Nha Trang, Đà Nẵng, Huế, Quảng Ninh, Cần Thơ, Hải Phòng, Đồng Nai, Nghệ An and Bình Dương.
Meanwhile, Grab has the advantage of being a technology platform starting with car and motorbike booking services, which have a regular customer of 20 per cent of the Vietnamese population.
Grab launched GrabFood along with many programmes connecting with shops, restaurants and co-operating with e-wallets as well as other promotions.
Go-Viet recently piloted Go-Food, intergrated with its ride service.
A representative told VnExpress it had co-operated with hundreds of thousands of food partners nationwide from street food, fast food chains to large restaurants.
The service would be implemented nationwide after being piloted in HCM City, said the representative. — VNS