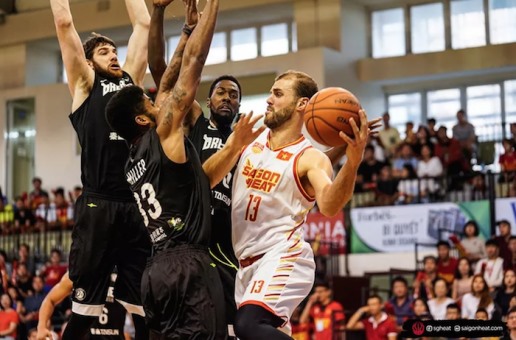 Murphy Burnatowski (13) had an impressive contribution to Saigon Heat. – Photo tinthethao.com.vn
Viet Nam News
HÀ NỘI — Saigon Heat narrowly lost to Macau Black Bears 95-97 in the Asian Basketball League at Nanhai Gymnasium, China.
They attacked first as leading the game 17-9 after the first five minutes.
However, minutes later, the Bears got the and turned the match around at 30-27 as the first quarter ended.
Although Kyle Barone scored seven points, Murphy Burnatowski five points and Sang Đinh five, Saigon Heat were down 54-51.
In the third quarter the heat fought back but it wasn't enough. .
Yet, the Bears showed they were not to be underestimated, as Anthony Tucker helped the host to even the gap.
All efforts of the Việt Nam's efforts were crashed thanks to a three-pointer by Nathan Yu and a dunk of Ryan Watkins helping the Bears win 97-95.
Saigon Heat will return to their home ground to meet Westsports Malaysia Dragons on December 9. — VNS