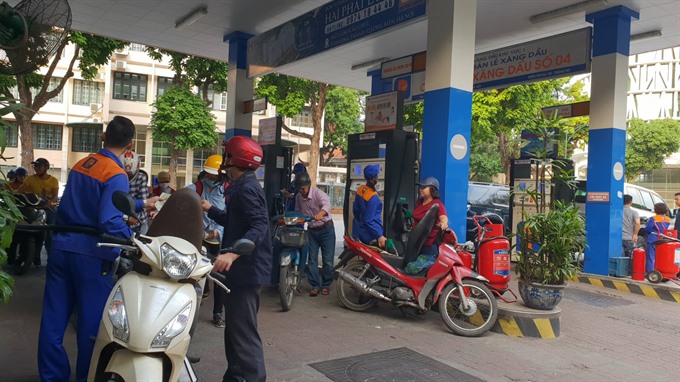 Viet Nam News
HÀ NỘI — The retail price of biofuel E5 RON 92 fell sharply by VNĐ1,446 to a maximum of VNĐ17,181 (US$0.73) per litre by 3pm on Thursday, the ministries of Industry and Trade and Finance announced.
The price of RON 95-III also dropped by VNĐ1,513 to a maximum of VNĐ18,459 per litre. Meanwhile, the prices of diesel 0.05S and kerosene were also reduced by VNĐ1,379 and VNĐ990 per litre to trade at VNĐ16,258 and VNĐ15,252 per litre, respectively.
The price of mazut 180CST was lower by VNĐ784 to VNĐ14,402 per kilo.
The two ministries decided to keep the use of subsidies from the petrol price stabilisation fund unchanged.
Accordingly, subsidies for E5 RON 92 were VNĐ700 per litre while those for RON 95 were VNĐ950 per litre. Those for diesel, kerosene and mazut were also at VNĐ800 per litre or kilo.
They reported that average world petrol prices in the past 15 days were trending downward with prices at $61,016 per barrel of RON 92, $62,845 per barrel of RON95, $74,325 per barrel of diesel 0,05S and $76,287 per barrel of kerosene. Meanwhile, the pre-tax price of ethanol E100 is VNĐ14,778 per litre.
The local petrol price has had four consecutive decreases since October 22. In the previous adjustment, the bio-fuel E5 RON92 was reduced by VNĐ973 per litre, RON 95 by VNĐ1,093 per litre, diesel by VNĐ907 per litre, kerosene by VNĐ844 per litre and mazut by VNĐ508 per kilo. — VNS