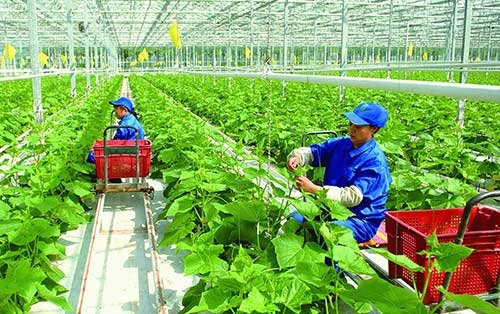 The Ministry of Agriculture and Rural Development (MARD) already has a plan to develop 1,500 co-operatives which will apply high tech in their production – accounting for 10 per cent of the 15,000 successful cooperatives in the country. — Photo danviet.vn
Ma Quang Trung, former director of the Rural Economics Co-operative and Development under the Ministry of Agriculture and Rural Development, speaks to Nông thôn Ngày nay (Countryside Today) newspaper on the development of high tech agriculture co-operatives in Việt Nam
PM Nguyễn Xuân Phúc has recently given a green light to the development of 15,000 new agriculture co–operatives by 2020. What will be the impact of such rapid development?
The proposal to develop 15,000 new agriculture co-operatives is a very important project to ensure the success of the restructuring of the agriculture sector and the programme of building new rural areas.
The project has laid down three key objectives as follows.
First, the goal is to maintain, consolidate and improve the working efficiency of about 4,400 agriculture co-operatives which have achieved remarkable successes in 2017, some 1,500 of which will apply advanced technology in their day-to-day farming activities,
Second, we set a target that by 2020 some 5,400 agriculture co-operatives among the 7,200 that are categorised as weak will be recategorised as healthy.
And finally, by 2020 another 5,200 new agriculture co-operatives will have been established and in operation. Meanwhile, all weak co-operatives will be dissolved or change to other business activities.
Does the proposal have any solutions to help co-operative apply new technology in production?
It is undeniable that high tech innovations play a very important role in agriculture nowadays. High technology has helped raise our primary industry to higher productivity and improved the quality of products while cutting the production cost towards the final goal of making our agricultural products more competitive.
High tech agriculture has received special attention from the Government. Recently, the Prime Minister decided to grant VNĐ100 trillion (US$4.3 billion) to support the development and application of high tech in the agriculture sector. The Ministry of Agriculture and Rural Development and concerned agencies have given specific instructions on how to make the best use of the grant.
By now quite a few enterprises, including VinGroup, Hoà Phát, Vinamilk and TH True milk have applied high tech in production and their earning have more than doubled compared with traditional practices. However, only 193 out of more than 12,000 co-operatives (1 per cent) have applied high tech in production. It is worth noting that the use of high tech does not require a lot of land – about 2,000 square metres is sufficient to start production.
High tech has many advantages, so why has it not been popular in Việt Nam?
There are three main reasons.
First, many co-operatives have acknowledged the benefits of high tech, but they do not know who they should contact for advice on how to apply it in their production. Couple that with the high cost of applying this technology, and you begin to understand why more groups have not done it.
Second, agriculture in the country still follows traditional production methods which do not require high tech.
And finally, the application of high tech requires a lot of money for both the inputs and other supporting systems, including advertisements for the products. Many farmers want to apply Israeli technology, but they are dissuaded when they hear the cost of US$1 million per hectare. In Việt Nam, the cost of netting is around $100 per ha, but the netting is effective in protecting the crops from pests or birds.
Does the Ministry of Agriculture and Rural Development have any solutions to help farmers solve these challenges?
The Ministry of Agriculture and Rural Development (MARD) already has a plan to develop 1,500 co-operatives which will apply high tech in their production – accounting for 10 per cent of the 15,000 successful cooperatives in the country.
Among the 1, 500 cooperatives that receive MARD support, 193 of them have already applied high tech in their production. We hope that in the near future more co-operatives will receive our technical support.
We hope many more co-operatives will apply high tech in their production with support from concerned Government agencies and other NGOs and international organisations. — VNS