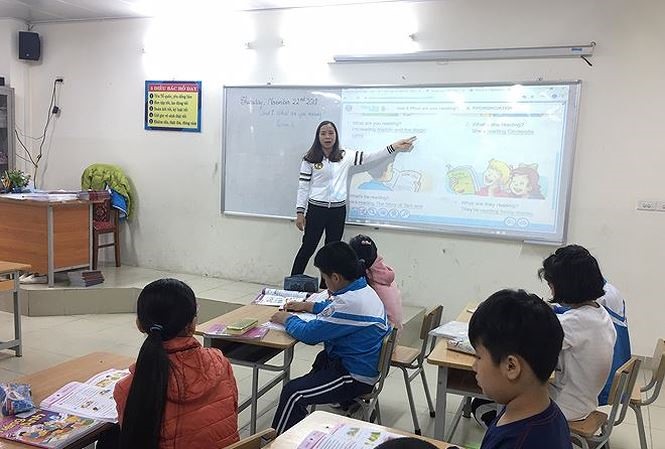 Viet Nam News
HÀ NỘI — Some of Ha Noi's top schools are finding it difficult to fill their classrooms, according to Tiền Phong (Vanguard) newspaper.
A survey from the newspaper revealed there are 17 high-quality schools in the city now, including 12 public schools.
According to Lê Thị Thanh Phương, principal of Sài Đồng Primary School in Long Biên District, the school was built to accommodate up to 750 students.
However, it still only has 453 students after being open for three years.
Currently, tuition fees for first and second graders are VNĐ3.6 million (US$155) per month and third, fourth and fifth graders VNĐ3.2 million ($138) per month. The number is about VNĐ 4.7 million ($202) per month for students on international co-operation training programmes.
Although the school was high quality, it still failed to attract enough students.
This was because that there were many well-known private schools in the district, Phương said.
She also claimed as her school was brand new, some parents were reluctant to send their children there.
Phương said there were three factors for attracting students, namely facilities, the education programme and the quality of graduate students.
In terms of facilities, her school was newly-built so it was up to snuff, she said.
However, the problem was with the education programme and the graduate students because it would take years to prove both the effectiveness of the education programme and the quality of graduates, she added.
The high tuition fees added to the problems, she said.
Another principal of a high-quality school said the most difficult problem was how to balance finances when a high-quality school became financially autonomous. The financial resources of the school would depend on tuition fees from students' parents during the nine-month school year.
Nguyễn Viết Cẩn, head of the Planning and Finance Division under the city's Education and Training Department, also pointed out another failing.
He said high-quality schools were financially autonomous, but not allowed to hire teachers as they chose.
Currently, teachers of the schools are still hired by municipal authorities.
High-quality school establishment
High-quality schools are supposed to be constructed in a modern-school model, meeting diverse learning demand of students amid international integration.
Students study with advanced teaching and learning methods, which make them more creative. They also learn foreign languages with native teachers and can join school clubs.
The schools also feature much smaller classroom sizes, with up to 30 students, compared to the 55-60 in normal schools.
High-quality public schools are funded by the State budget for their first three years, then they can become financial autonomous.
Solutions
Trần Thế Cương, head of the Committee for Socio-cultural Affairs under the People's Council of Hà Nội said the council had already ordered the city's education and training department to send a comprehensive report on high-quality schools.
Then, the committee will conduct an inspection of the schools' operation by the end of this month. — VNS