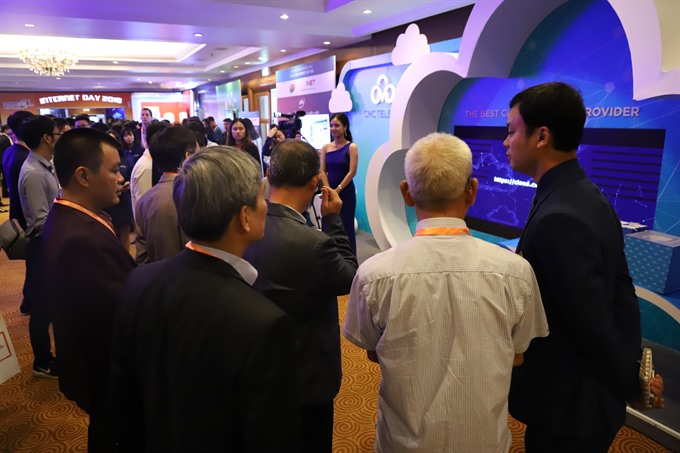 CMC Telecom introduced its cloud ecosystem at Internet Day 2018 in Hà Nội on Wednesday. — VNS Photo
Viet Nam News
HÀ NỘI — CMC Telecom has introduced its two Cloud services – Elastic Compute and Elastic GPU – which are suitable for many different consumer segments.
Using modern virtualisation technology, multi-layer security and multi-tasking management, CMC Cloud solutions are currently being deployed for many domestic enterprises.
Compared to a physical server, CMC Cloud helps customers to cut down on infrastructure investment, initial operation and management costs and wasted time, minimising the impact on production and business operation.
Elastic Compute provides Cloud servers to customers who have the need to operate software, websites and data storage. Elastic GPU provides customers exclusive new technology. GPU virtualisation server supports complex mathematical problems such as Machine Learning, AI, video and image analysis and Big Data.
In 2018, CMC Telecom introduced its Smart Camera solution and Big Data for chain-style business and applied AI to support online marketing and IBM Cloud Private for specific sectors such as banks, financial institutions and insurance companies.
CMC Telecom was named The Best Cloud Computing Service Provider in Vietnam by HCM City Computer Association.
The company has become a partner of the world's top Cloud service providers like Amazon Web Service (AWS), Microsoft, Google and IBM. CMC Telecom is currently the only partner chosen by IBM to implement a portal of IBM Cloud Private service management in Việt Nam.
Đặng Tùng Sơn, Deputy CEO of CMC Telecom, said: "CMC Cloud solution helps customer accelerate the digital transformation process." — VNS