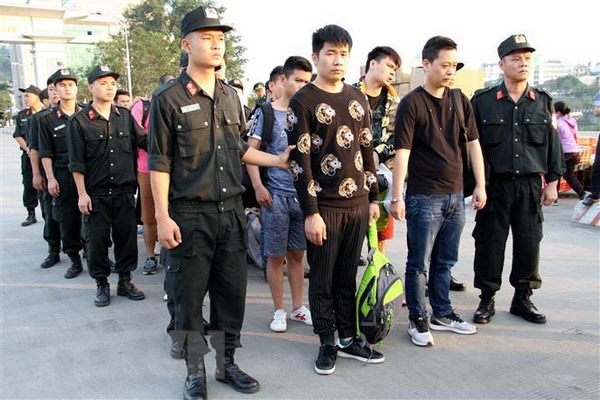 Police in the northern province of Lào Cai have handed over 10 Chinese nationals accused of online swindling to police of Hekou county, China's Yunnan province. — VNA/VNS Photo Hồng Ninh
Viet Nam News
HÀ NỘI — Police in the northern province of Lào Cai said on Wednesday that they had arrested a group of ten Chinese nationals on suspicion of stealing other people's property in Lào Cai City's Bắc Cường Ward.
Fourty-four mobile phones, about 4,000 Chinese yuan, 10 SIM cards, 23 wifi routers and other exhibits were also seized.
According to the Police, these suspects rented rooms in the ward. They used Chinese SIM cards but took advantage of local wifi networks to sell methanol – a chemical substance that is mostly used to create fuel – solvents and antifreeze online. The suspects asked customers in China to send money to their accounts in advance, pretending that they had to pay taxes or storage fees. Once receiving the money, they cut contact with the buyers.
Earlier, police from Chinese Yunnan Province's Hekou County had co-ordinated with their colleagues in Shandong Province to investigate the case relating to the trading of methanol via the Internet. They found out that the gang had committed 20 swindling crimes in 12 provinces and cities in China.
Yunnan Police have informed Lào Cai Province Police about the incident and asked them to collaborate in taking the swindlers into custody.
On Wednesday night, the swindlers had been handed over to Yunnan Police. — VNS