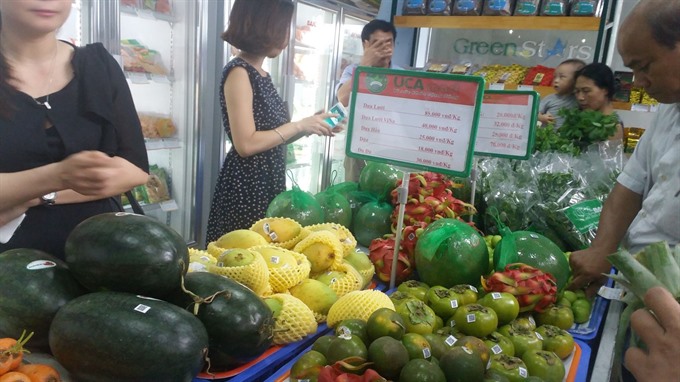 Customers inspect produce at UCAmart under UCA, which has set up a support centre for co-operative development. – Photo thuongtruong.com.vn
Viet Nam News
HÀ NỘI — A support centre for co-operative development was opened in Hà Nội on December 6 to help Vietnamese co-operatives get more involved in agricultural value chains.
Nguyễn Thế Phương, director of the centre set up by the Việt Nam Cooperative Union for Agricultural Consumption (UCA), said it would help co-operatives join sustainable value chains.
UCA Chairman Phạm Anh Tuấn said Việt Nam had been strongly integrating into the global economy, meaning to bring both opportunities and challenges to the nation, especially for agriculture.
"The Comprehensive and Progressive Agreement for Trans-Pacific Partnership (CPTPP) is scheduled to take effect in January 2019. Besides exporting farming products to large markets under CPTPP, Việt Nam's export products will face challenges posed by competition from products from other CPTPP member nations including Australia, New Zealand and Japan."
Therefore, Vietnamese goods would have to meet the other countries' standards while being safe and cheaper than agricultural products from other signatories, or they would lose in the domestic market, said Tuấn.
"To do that, it is necessary to boost land accumulation, mass production and high-tech application to improve quality and labour productivity and reduce production costs," Tuấn said.
He said the UCA, founded more than two years ago, would have to do much more to contribute to Việt Nam's agriculture.
According to the Việt Nam Cooperative Alliance, co-operative groups and co-operatives make up nearly 4.8 per cent of the country's GDP. There were 21,026 active co-operatives as of June 30 this year, up 934 against the previous year. More than half were in agriculture or agricultural service.
Việt Nam wants to have at least 15,000 agricultural co-operatives and co-operative unions operating by 2020. — VNS