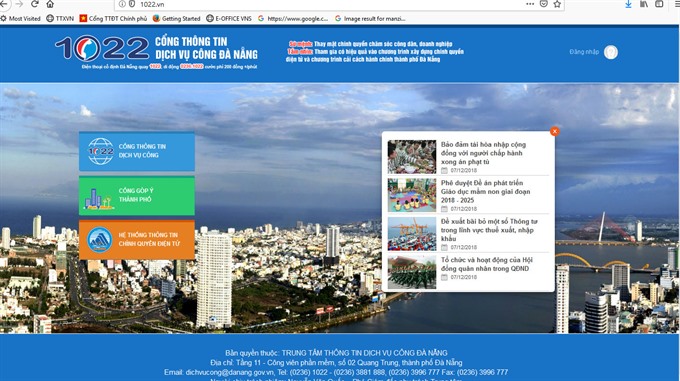 Viet Nam News
ĐÀ NẴNG — Da Nang has recently launched an artificial intelligence (AI) chatbot for public service to promote easy access to information on administrative procedure, traffic, healthcare, food safety, tourism and business registration.
Vice director of the city's information and communications Trần Ngọc Thạch said at a press conference the chatbot, which was funded by the United Nations for Development and Programme (UNDP), aims to boost ties among communities and local administration.
Users can access the Chatbot at the website 1022.vn.
"The AI technology will help resident access public information service easier and more openly. The application will support local administration in policy making through viewing community's feedback," Thạch said.
"The chatbot launch was a positive step to speed up the process of building Đà Nẵng as a smart city by 2025," he said.
He added that the city had offered more connections with local people in approaching to public service including the website gopy.danang.gov.vn to get feedback on city services from the local community, switchboard 1022, Zalo, Facebook and text messages.
According to Nguyễn Văn Quốc, deputy director of the city's public service centre, the centre's online portal and switchboard received 1,000 opinions and complaints from local residents and tourists and 10,000 phone calls for public service consultancy, while 30,000 messages were exchanged via Facebook and text per month.
Internet users could send all problems related to security, tourism, public disorders, environmental pollution, and administrative procedures to the concerned authorities via the website, switchboard, Facebook and website.
Earlier this year, the city's tourism department also launched a chatbot application – the Danang FantastiCity chatbot, in English and Vietnamese, to help visitors search for destinations, things to do, events, hotels, cuisine, directions, bank machines, public rest-stops and weather forecasts. — VNS