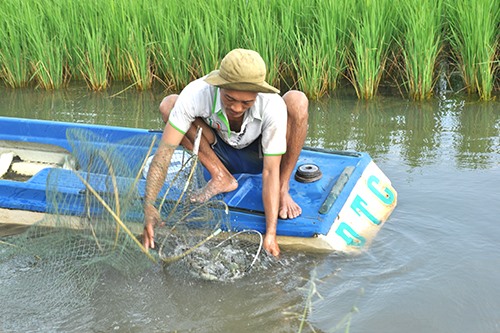 Viet Nam News
CÀ MAU – The southernmost province of Cà Mau has encouraged farmers to raise shrimp and grow more rice and other crops under Vietnamese Good Agricultural Practices (VietGAP) to increase profits.
The province produces high-quality products and uses advanced farming methods, including the rotation of rice and shrimp on rice fields, and cultivation of vegetables and watermelon under VietGAP standards.
Under the rice-shrimp model, farmers grow rice in the rainy season and breed shrimp in the dry season in rice fields in coastal areas.
They can harvest about five tonnes of rice per hectare and earn VNĐ45 million (US$1,930) from breeding shrimp.
The province, the country's largest shrimp producer, has applied the rice-shrimp farming model since 2000 and has 51,570ha of rice – shrimp farming fields, accounting for nearly 18 per cent of its total brackish-water shrimp farming area.
As part of the model, the shrimp eat natural food in the rice fields where few chemicals are used.
Rice varieties planted under the model include specialty rice like tài nguyên, tép hành, một bụi and ba bông mẳn.
These varieties, which are resistant to salty water and disease, are in high demand for their delicious taste.
The province uses VietGAP standards for its rice-shrimp farming model.
Phạm Văn Mịch, director of the province's Agriculture Seed Centre, said coastal areas that grow specialty rice varieties in the delta and in Cà Mau in particular have good conditions for rice grown under VietGAP standards.
"The standards form the basis for building brand names for the specialty rice varieties, and they also increase rice value and income for farmers," he said.
The province's rice-shrimp farming model can be found in Cà Mau City, U Minh, Trần Văn Thời, Cái Nước and Thới Bình districts.
In Thới Bình, local farmers grow specialty rice and raise shrimp on 1,500ha.
This year, the price of specialty rice planted under the model sold for VNĐ500 – VNĐ700 a kilo more than rice grown by traditional farming methods.
The district is also growing rice under GobalGAP standards on an area of 30ha in Trí Lực Commune, according to the province's Plant Cultivation and Protection.
Cà Mau is also developing large fields that use the "3 reductions and 3 increases" method to grow rice under VietGAP standards.
The 3-3 method refers to the reduced use of seeds, fertilisers and plant protection chemicals to achieve better productivity, quality and efficiency.
Rice is one of five key products in the province's agricultural restructuring plan to 2020. The five key products are shrimp, mud crab, high-quality rice, bananas and wood.
Besides rice and shrimp, many farmers have planted vegetables and watermelon under VietGAP standards, earning high profits.
In Cà Mau City's Lý Văn Lâm Commune, 34 households have planted watermelon under VietGAP standards, earning an average profit of VNĐ200 million ($8,590) per hectare a year, up 40 per cent against traditional farming method.
However, some farmers have not had a higher profit or stable outlets for their VietGAP products as their selling prices at times were not higher than those received for crops grown under traditional farming methods.
The province will call on more companies to guarantee outlets for VietGAP products, according to the province's Department of Agriculture and Rural Development.
Nguyễn Văn Tranh, deputy director of the province's Department of Agriculture and Rural Development, said the department in co-operation with scientists and companies would guide farmers in implementing new agricultural production models such as a clean-rice model.
"When companies work with farmers, the issue of outlets will be solved," he said.
The province has about 168ha of farmland that grows rice and other crops under VietGAP standards, according to the province's Department of Agriculture and Rural Development. – VNS