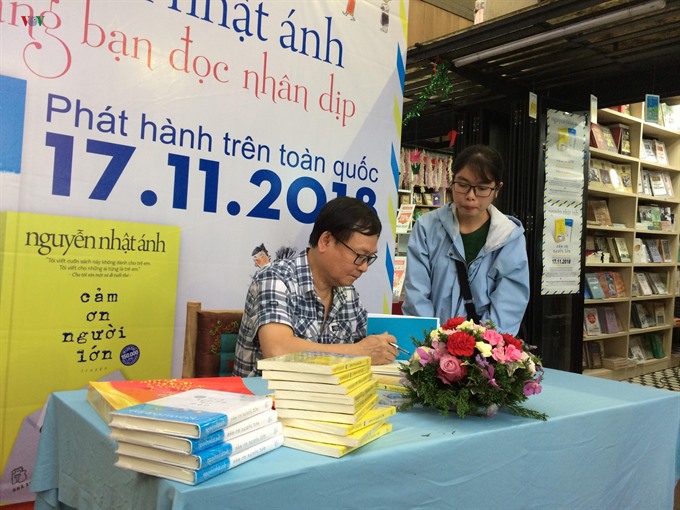 Viet Nam News
HÀ NỘI — Best-selling author Nguyễn Nhật Ánh will sign autographs for readers on Sunday at Hà Nội Library at the launch of his latest book Cảm Ơn Người Lớn (Thank You, Adults).
This is the first book published worldwide by Tuổi Trẻ (Youth) Publishing House with a record 150,000 copies.
It was released at the same time in Việt Nam and countries where many Vietnamese people reside such as Japan, the US, the Czech Republic, Germany and Chinese Taipei.
The book includes 19 chapters, telling stories of childhood, friendship and love.
"It's written for children and those who have been children," said Ánh.
Thai writer Prabhassorn Sevikul (1948-2015) once said that although the had not met Ánh, reading his books made him feel as though they had been friends for a long time.
"Ánh says many things that people can't say," he said.
Poet Hữu Việt said Ánh is a secretary who writes about childhood.
"He is one among very few authors who do this work well," he said. "That's why his books always are a big attraction to readers."
The book was released to commemorate 10 years since the book Cho Tôi Xin Một Vé Đi Tuổi Thơ (Give Me a Ticket to Childhood) was published. 400,000 copies were published, making Cho Tôi Xin Một Vé Đi Tuổi Thơ the most successful book in the history of the Vietnamese publishing industry. It was translated to various languages.
In Việt Nam, books by local authors are usually printed with about 1,000-2,000 copies. A translation of See Me written by Nicholas Sparks, a number one New York Times Best-selling Author, was printed early this year in a run of 3,000 copies.
Tuổi Trẻ (Youth) Publishing House also holds the copyright of worldwide phenomenon Harry Potter. The book was published in the country for the first time in 2000 with 20,000 copies.
Ánh holds the distinction of being the author who has had the most books printed in the country. Readers always come early and queue up for Ánh's autographs at book signing events. — VNS