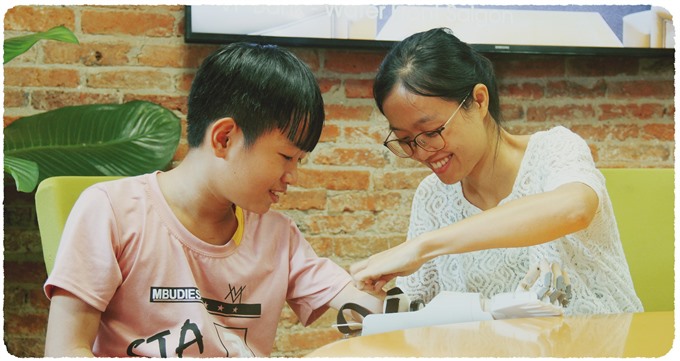 Viet Nam News
Trần Mai & Ngọc Hiển
HÀ NỘI — On a sunny day at the beginning of November, Võ Thị Hồng Vân and her son travel the familiar road from the southern province of Đồng Nai to HCM City to receive treatment for the young boy's cancer. On this particular day, they are full of joy.
Cancer destroyed the childhood and left hand of Vân's son – Hải Đăng. The name which means lighthouse makes people think of hope. He's now 13 years old and a pupil at the Hòa Hưng Junior Secondary School in Long Thành District, the southern province of Đồng Nai.
Now many benefactors have helped make Đăng's dream of having a robot arm a reality.
"Will my arm be cut?"
Vân and Đăng came to HCM City for the first time at the beginning of 2015. They made an appointment at Paediatrics Hospital No 2, because Đăng's arm was swollen and he was in a lot of pain.
Đăng was diagnosed with bone cancer and had to be hospitalised.
"Hearing the doctor's words, my heart was broken," said Vân.
After that, Vân and Đăng faced endless visits to the hospital.
Many nights Vân had to stay awake and massage Đăng's arm to ease his severe pain. Đăng's condition got worse and worse.
One day in the middle of 2015, the doctor called Vân to his office.
Đăng's arm had to be amputated to prevent metastasis. It was the only option.
Being a mother, Vân struggled to tell Đăng the painful truth but was unable to do it. The doctor helped Vân break the news to Đăng.
"Đăng kept asking me if his arm will be reattached after it is cut," Vân said.
Vân had to say "Yes' just so Đăng would feel secure, but she cried in private.
Impossible dream
During the worst days, Vân and her son found optimism in the programme 'Thúy's dream'.
Meeting volunteers from the programme, Đăng said he dreamed of shaking hands with a pilot, visiting the cockpit and controlling the plane with his two hands. Đăng believed that flying a plane was like driving a car, and he would hold the steering wheel to control the plane around the blue sky.
Volunteers looked at ways of helping Đăng, but strict regulations on flights meant he was unable to fulfill his dream.
Đăng went into surgery with his dream still in his mind.
After surgery, Vân cried a lot. But it was Đăng who consoled his mother.
"Mother, please don't cry. I want you to be happy, I feel healthy when you're happy," Đăng told his mother.
Đăng was discharged from hospital at the end of 2016.
At home, he tried to do everything by himself. But when doing tasks that required two hands, he told his mother, "If only I had a robot arm."
His wish was too much for their poor family.
At the Sunflower Festival held in HCM City last year, Đăng spoke about his dream. And the quest to find a robot arm for Đăng started that day.
365 days
At the Sunflower Festival 2017, Lê Bá Thông, a sponsor who was close to young cancer patients for many years, promised Đăng a new arm.
With Thông's connections, young people from Fablab Saigon, a technology workshop, collaborated with the Taiwan-based TGH Organisation to design and build an arm for Đăng.
On hearing that the arm was finished about five months later, Vân and Đăng immediately went to HCM City.
Đăng held his new arm and smiled.
Vân said, "It's been such a long time since I saw a smile on his face."
The Sunflower Festival was launched in 2008. It is an important part of the 'Thúy's dream' programme. The festival was organised to connect cancer patients and call for help from people, businesses and organisations to support them.
'Thúy's dream' was launched by the Tuổi trẻ (Youth) newspaper two months before a cancer patient named Lê Thị Thúy passed away. The programme was set up in order to carry on her will and great effort to help other disadvantaged children suffering from cancer.
At the age of 15, Thúy was diagnosed with bone cancer. Despite her illness, Thúy continued taking part in a number of charitable activities such as writing a blog titled Ước mơ của Thúy (Thúy's dream) and taking part in many events for children with cancer in HCM City. She was named the young citizen of HCM City in 2006 owing to her optimism in her fight against cancer while doing well academically at the same time. — VNS