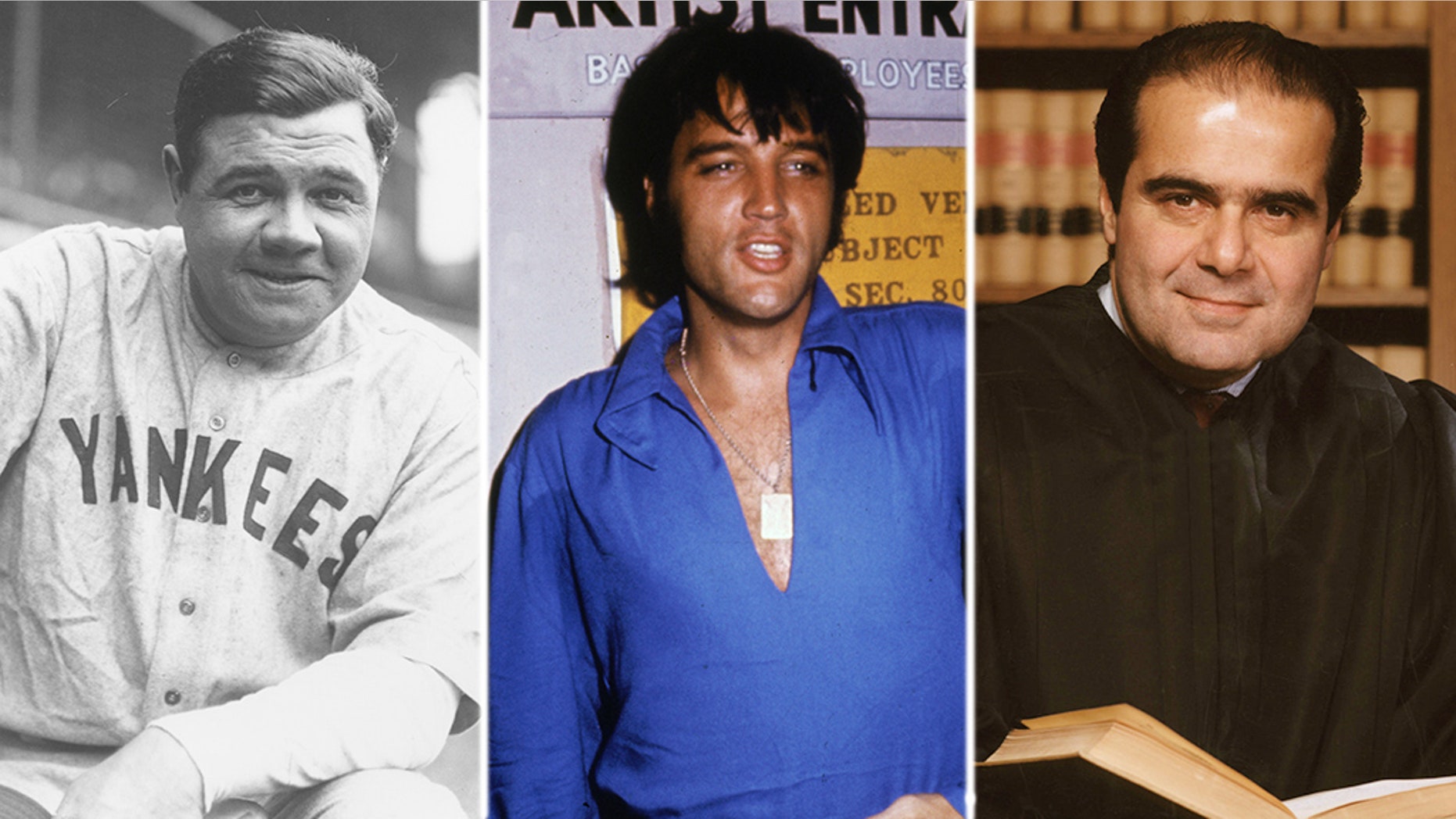 Seven people – including Elvis Presley, lengendary slugger Babe Ruth and the late Supreme Court Justice Antonin Scalia – will be given the Presidential Medal of Freedom by President Trump, the White House announced.
The award will be bestowed upon the "distinguished individuals" on Nov. 16, according to a news release Saturday.
"This prestigious award is the Nation's highest civilian honor, which may be awarded by the President to individuals who have made especially meritorious contributions to the security or national interests of the United States, to world peace, or to cultural or other significant public or private endeavors," the news release said.
The White House noted Presley's accomplishments in the music industry and described him as "an enduring American icon 4 decades after his death."
"Elvis also served nearly 2 years in the United States Army, humbly accepting the call to serve despite his fame," the news release said.
The "legacy" of baseball legend Babe Ruth "has never been eclipsed," the White House said, while recognizing his various records and victories with the New York Yankees.
"Off the baseball field, he created The Babe Ruth Foundation and tirelessly raised funds for the war effort during the Second World War," the news release added.
The White House also praised Scalia, who died in 2016, as "one of the greatest Supreme Court justices in American history" and "a champion of the Constitution."
Additional recipients include Sen. Orrin Hatch, R-Utah, Miriam Adelson, Alan C. Page and Roger Staubach, the news release said.
The White House commended Hatch's time in public service and noted his record of sponsored bills that have been voted into law, saying it surpassed that of "any other living Member of Congress.
Hatch, the longest serving Senate Republican, announced in January that he would not be seeking re-election.
Adelson "is a committed doctor, philanthropist, and humanitarian," the news release said. She has been an active part of the American Jewish community and, alongside her husband, Sheldon, she "established the Adelson Medical Research Foundation, which supports research to prevent, reduce, or eliminate disabling and life-threatening illness," the White House said.
Page, a former NFL player who's in the Pro Football Hall of Fame, earned his degree in law while on the Minnesota Vikings roster "and practiced law during the off season," the news release said.
"After retiring from the NFL in 1981, Justice Page practiced law full-time before winning a seat on the Minnesota Supreme Court in 1992," a seat he held for more than two decades, the White House said. "Since 1988, his Page Education Foundation has provided scholarships to nearly 7,000 students."
And Staubach, a "hall-of-fame quarterback," also played in the NFL and claimed two Super Bowl victories, according to the news release.
After his time playing professional football, Staubach went on to become an accomplished businessman and "a champion for many charitable causes," the White House said.
Fox News' Kaitlyn Schallhorn contributed to this report.