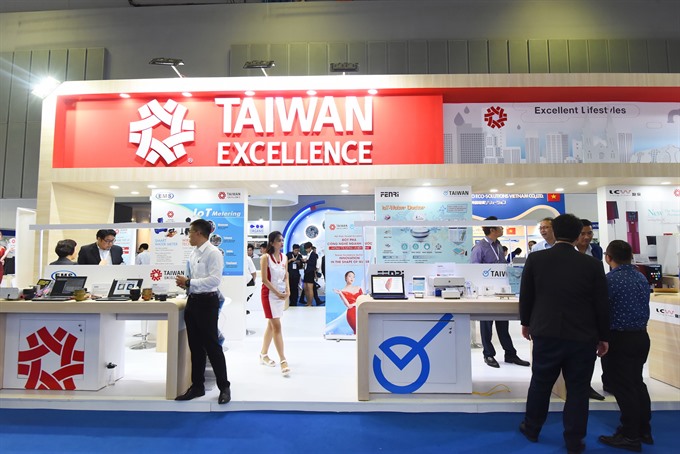 Visitors at a booth in the Taiwan Excellence pavilion at the Vietwater exhibition. — VNS Photo
Viet Nam News
HCM CITY – Taiwanese companies shared their experience and information about advanced water treatment technologies at a seminar in HCM City on Thursday.
"Innovation in the Shape of Water: Towards a Sustainable Future," part of the Vietwater exhibition, was organised by Taiwan Excellence and Taiwan External Trade Development Council (Taitra) to provide an overview of emerging trends in and insights into water industry projects from Taiwan and all over the world.
Delegates said that both Việt Nam and Taiwan faced a water quality crisis and shared many similarities and also increased investment in water supply and wastewater treatment.
Taiwanese experts said technology, "considered the main engine for the growth of the Taiwanese economy, also enhances its leading position in the water industry with exports of pumps, valves, pipes, water filters, and measuring and control equipment worth US$2 billion each year."
Business executives taking part in the seminar provided updates on intelligent and environment- and user-friendly water technologies for adoption in key industries in Việt Nam.
Taiwanese companies said they were seeking more partners in Southeast Asia and Việt Nam was one of the key markets in their expansion strategy.
Within the framework of Vietwater, Taiwanese companies showcased many advanced technologies at the Taiwan Excellence pavilion. — VNS