From a novice to an expert, Olympic swimming great Stephanie Rice profiles the Pro Kabaddi League

When I was invited for the VIVO Pro Kabaddi League Season 6, I was very surprised because I did not know much about the sport. I had heard about it a couple of years ago when I was working with Star in India and we had an Australian team competing in the World Cup. But I didn't know anything about the sport and its rules. When an offer came along this time, I just thought why not give it a shot, and that's how it all began.
I spent the first two weeks learning all the rules, watching matches and understanding how it is refereed; and the next couple of weeks trying to understand players' skills, their names, what their strengths and weaknesses are etc., so that I could add value to the content in a presenting role. Now that it's been a month, I feel that I have a pretty good understanding of the sport itself and I am really enjoying watching the game and am looking forward to the next couple of months to refine all of that.
To me, watching kabaddi is like watching a basketball game. It's really fast, there's continuous action and points are being scored all the time. I really like the format of 20-minute halves. It's easy to watch, go to the venue and get that entertainment. Also, that there are two matches every night at the same venue is pretty unique. I don't see much of that in any other sport.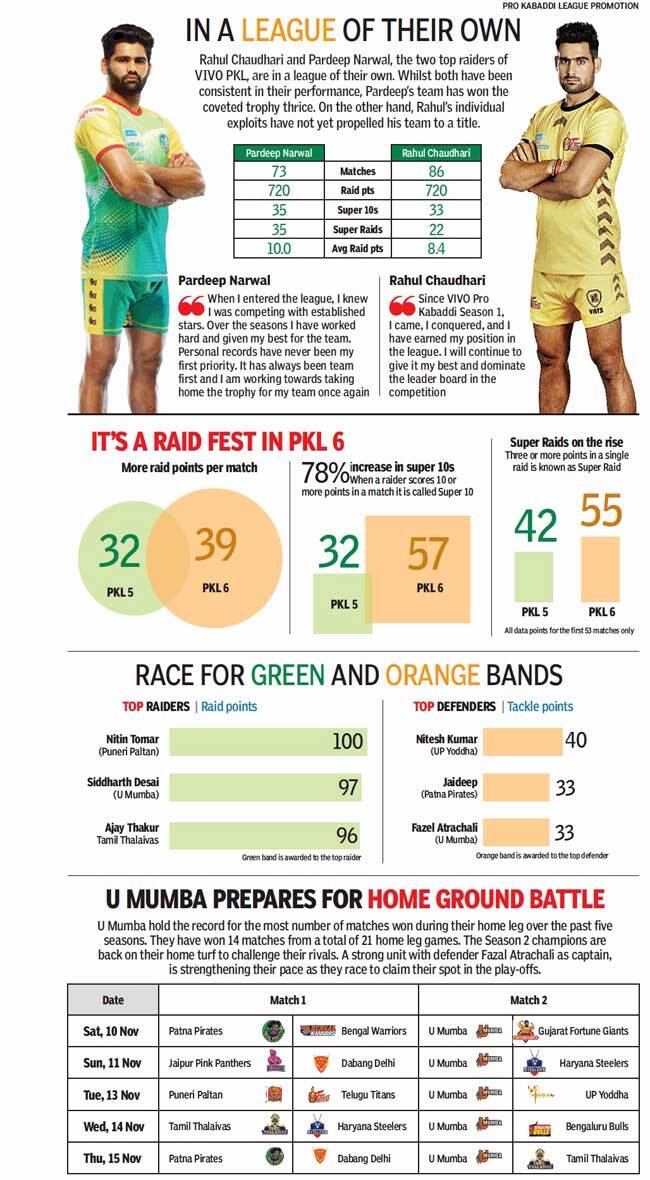 Speaking about skills, I am so impressed that someone could be so big and strong and be a defender but at the same time do things like the high kick and jumps and all that stuff. I think that's pretty amazing.
I met players in Mumbai and it felt great. And yes, there have been so many incredible performances. Siddharth Desai (U Mumba raider) has really stood out for me given that this is his first real season and he is just so big and so strong and flexible.
To be so tall and so agile is really pretty unique. I am really looking forward to seeing how he goes in the next couple of seasons. Before I came here, I had heard about Pardeep Narwal, and I was impressed to see how he plays. Someone like him has been there and also been the captain of the team and performed season after season.
Communicating, meanwhile, has not really been a challenge because we are doing the English show and although only a few players can speak the language, I have enjoyed listening to the translations and the packages that we have put together. I am just enjoying learning some Hindi words and being able to draft that into the presentation, but also for me, the biggest thing is the pronunciation because obviously, I don't want to pronounce the name of any athlete incorrectly.

The organisers are doing a really good job with the league. Conducting two games per night, having four teams in action means as a spectator you are getting a lot of entertainment out of that. Playing in a different city every week means you are serving different communities. It will obviously be great if we have a better understanding of the athletes themselves because they are the real superstars.
The broadcast, too, has been incredible. I did not know earlier that the league was being shown on so many channels in a number of different languages. Star have really had a huge impact on athletes and their careers in making this a professional league and being able to help the athletes get paid. That's a gift actually because not many athletes make money from their sport.
VIVO PKL 6 has provided me an opportunity to learn a whole new sport and be able to share some of that over social media with my audience back home in Australia. I am getting so many questions online and I feel that's helping to grow the sport over there as well.
(As told to Dhananjay Roy)