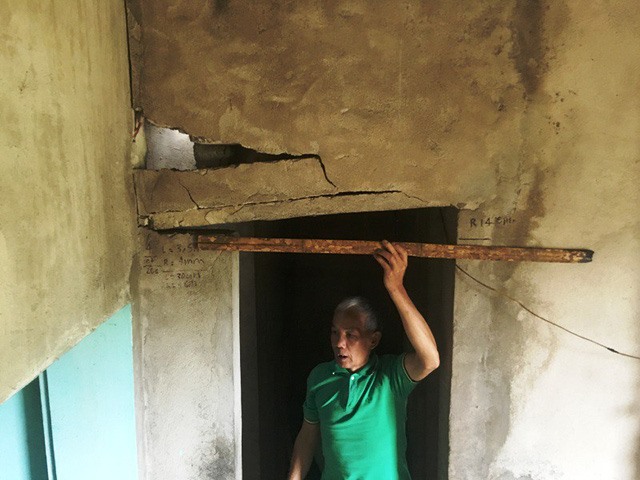 Viet Nam News
THANH HÓA — More than 300 families in Nguyệt Ấn Commune in the northern province of Thanh Hóa have claimed rock blasting during the construction of the northern Chu and southern Mã Rivers Irrigation System project is threatening their lives and damaging their houses.
Hoàng Đình Hào, a resident in Nguyệt Ấn Commune, said his family's three houses were affected, particularly the one 20m from the canal. The two-storey house has cracks on the walls and the roof and was sinking.
"My family lives in fear every day as the cracks are widening," he said, adding he sent a letter to the district's People's Committee about the incident.
Nguyễn Hữu Tư, another resident, said his two-year-old house suffered subsidence in the foundation and had 60 cracks each 1-9m long.
In addition to creating cracks on walls, the projects also affected underground water in the locality, online dantri newspaper reported.
Most of the wells residents used daily were drained, forcing them to spend money drilling new ones.
Late last year, after inspecting the project, Nguyễn Đức Quyền, vice chairman of Thanh Hóa Province People's Committee, asked the project's contractor to assess the damage and compensate affected households. However, compensation has not been paid.
Residents said they weren't satisfied with the offered compensation, blaming a lack of transparency.
Three of the 349 households had received compensation of more than VNĐ4.7 billion (US$201,600), while many households that suffered serious damage were offered compensation from VNĐ1 million-300 million ($43-12,900)
Locals also said they'd sent complaint letters to authorised agencies often, asking the compensation be reviewed.
Nguyễn Hữu Đức, vice chairman of Nguyệt Ấn Commune's People's Committee confirmed to the newspaper that 349 households were affected by the construction of the irrigation project.
Local authorities have sent the list of households to the district authority and asked the contractor to solve the problem soon.
The northern Chu and southern Mã Rivers Irrigation System is set to be more than 370 km long with total investment of over VNĐ 4.3 trillion ($184.5 million) from the Ministry of Agriculture and Rural Development. It was started in 2011 and is basically completed.
The project aims to divert water from Cửa Đạt and Dốc Cáy lake (Thường Xuân District) to more than 31,000 hectares of agricultural land and supplying water for many localities in Thanh Hóa Province including Thọ Xuân, Yên Định , Thiệu Hóa, Ngọc Lạc and Thường Xuân. — VNS