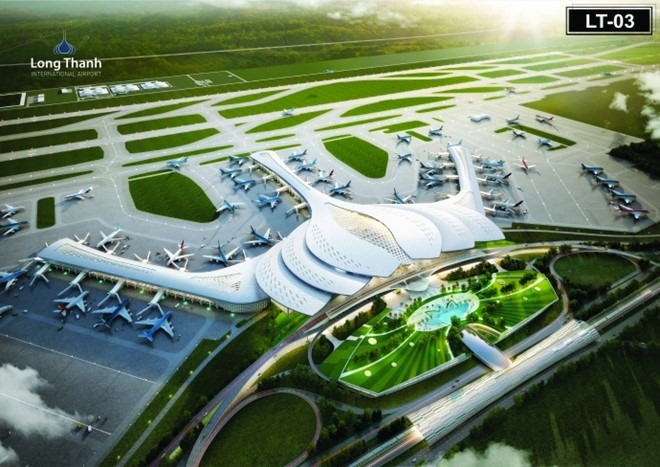 Viet Nam News
HÀ NỘI — Deputy Prime Minister Trịnh Đình Dũng has approved a feasibility report on a project of land clearance, compensation and resettlement support related to the construction of Long Thành International Airport in the southern province of Đồng Nai.
The project aims to recover land and give compensation and resettlement support to locals living in the area, making it easy for the investor to complete the project on schedule.
It will focus on vocational training and generating jobs for locals, and on adjusting the administrative boundaries of communes in the project area.
Attention will also be paid to settling complaints of organisations, households and individuals during the project's implementation.
The project is funded by the provincial People's Committee with a total cost of over VNĐ22.85 trillion (over US$978 million) sourced from the State budget.
VNĐ4.1 trillion of the total amount will be invested in infrastructure development of resettlement areas and VNĐ479 billion will be spent on infrastructure facilities outside the airport.
Over VNĐ17.8 trillion will be earmarked for supporting resettlement, VNĐ306 billion for vocational training and job generation and VNĐ27 billion for building a feasible report of the project. The project is implemented from 2017 to 2021.
Once fully operational, Long Thành Airport is expected to reduce the load on neighbouring Tân Sơn Nhất International Airport in HCM City. The airport will be able to handle 100 million passengers and five million tonnes of freight each year.
Covering a total area of more than 5,580 hectares, the airport will be located in six communes in Long Thành District in Đồng Nai Province.
The airport's total investment is VNĐ336.63 trillion ($14.45 billion), with construction divided into three phases.
In the first phase, a runway and one passenger terminal along with other supporting works will be built to serve 25 million passengers and 1.2 million tonnes of cargo each year. This phase is expected to be complete by 2025.
In the second phase, one more runway and another passenger terminal will be built to serve around 50 million passengers and 1.5 million tonnes of cargo a year.
After the third phase, the airport will be able to serve 100 million passengers and 5 million tonnes of cargo a year.
The investment will come from various sources, such as the State budget, Official Development Assistance and corporate capital. — VNS