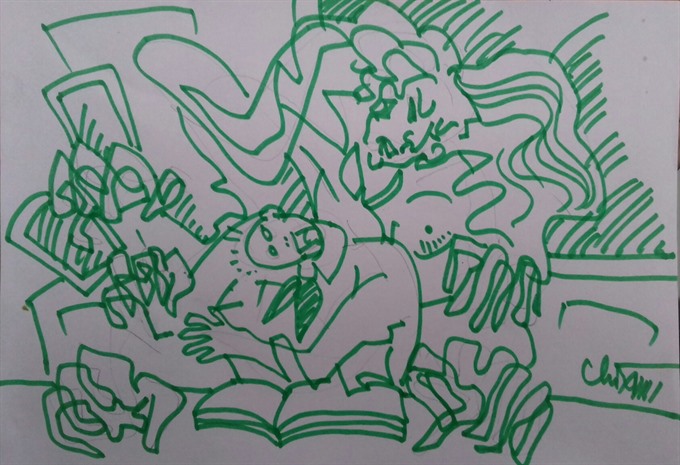 Viet Nam News
Khánh Vân
We have all had something derogatory to say about teachers in the past.
Many of us as students would have returned home from class and had a right go at our teacher safe in the knowledge they would not hear what was said.
But that was before a little thing call Facebook which has seen eight 15-year-olds from the same class in Nguyễn Trãi High School in Thanh Hóa Province land themselves in a spot of bother.
They were punished after a group chat they belonged to was discovered containing some not so favourable comments about both the school and teachers.
One of the students had his phone confiscated in class by a teacher. Then another member of staff noticed it was unlocked and checked the contents.
It was then the Facebook chat was found.
The school then decided to punish the students for using social networks to derogate the reputation and dignity of teachers and schools. It decided to expel three students for a year and suspend four students for a week. Another student was publicly chastised in front of the whole school.
Many people agreed that teachers can confiscate students' phones for using during class but they do not have the right to check the students' phones.
A school principal in HCM City told the Dân trí online newspaper that a teacher had the rights to take a phone from a student if he/she violates regulations on using phones during class. However, confiscating the phone did not mean that the teacher can check the phone or read private messages.
Lawyer Đặng Văn Cường told the Lao động (Labour) newspaper that it should be taken into consideration the context when the teacher checked the student's phone.
"If the teacher intentionally checked the phone, she violated the privacy of the student," he said.
A teacher was not allowed to check students' phones without their permission in any cases, excepting for cases of emergency, he added.
An eighth grader from Cầu Giấy District said: "Some of my friends sometimes still use phones during classes. It is really annoying and teachers should confiscate their phones. However, our private conversations on phones or social networks should be protected. That is the place for us to just discuss and share what we think and it does not harm anyone."
Counterproductive punishment
The incident also put the Nguyễn Trãi School's management in the spotlight.
It is obvious that students should respect teachers and should not talk bad about them and schools. However, expelling or suspending the students and even chastising a student in front of the whole school for their "wrongdoings" is not a proper decision.
The school has decided to withdraw its punishment decision following an order from the provincial Department of Education and Training last week.
Trần Thành Nam, head of the Hà Nội National University's Department of Education Science told the Lao động newspaper that the school needed to review context and reasons why the students had such action before making any conclusion as well as deciding to punish them.
Apart from teaching children's knowledge, teachers and schools should also care for students' emotion and aspirations. Social and psychological factors should be taken into consideration when applying strict punishment for students.
Lê Ngọc Huyền, a secondary school teacher in Hà Nội, said expelling students was considered a failure of education and chastising a student in front of the whole school for his/her wrongdoings was one of the most counterproductive education method.
"Instead of educating the students, this would breed feelings of resentment," she said.
"Some people think that strict management would help to warn and educate children but it can have negative impacts on the students' emotions, thought and even behaviour. Some students will feel too embarrassed and will stay away from friends and teachers, some even do not want to continue going to school," she said.
Lawyer Nguyễn Kiều Hưng told Dân trí online newspaper there was no clear regulations stating that students will be expelled if they backbite teachers.
Applying improper punishment or education methods could create adverse effects, he said. Many children became "bad" people after being expelled from schools.
High school students have more rebellious streaks than younger pupils, and are also more likely to display their independence. As such, they are more judgmental of adults, Phạm Thị Thúy, a sociologist and psychologist in HCM City told VnExpress online newspaper.
They will only respect adults based on reason, not intimidation, she said. Therefore, adults need to let them express themselves and learn why they did what they did, rather than punishing them outright.
Criticising is also normal. Students should have the chance to express their opinions but they should take into consideration where to talk and how to talk, according to Nguyễn Quốc Bình, principal of Lê Quý Đôn High School in Hà Nội.
"When students dare to criticise teachers, it means that they still believe in their teachers. No one is perfect, including teachers. We should thank students when they tell us what we need to improve," he said.
"Teachers should keep calm and take time to look back and review themselves when getting criticism from students. If we did something wrong, we should fix it," he added.
Education is never an easy task. The school and teachers should try to understand teenagers better, letting them think about their actions, fix problems and draw experience rather than applying strict punishment outright.
Many parents also tend to manage the kids by checking their phones or social network accounts. However, adults need to respect the privacy of the kids and need more proper education method.
Kids need their own spaces and the most important way is how adults can create opportunities for children to express their opinions and share their feelings. — VNS