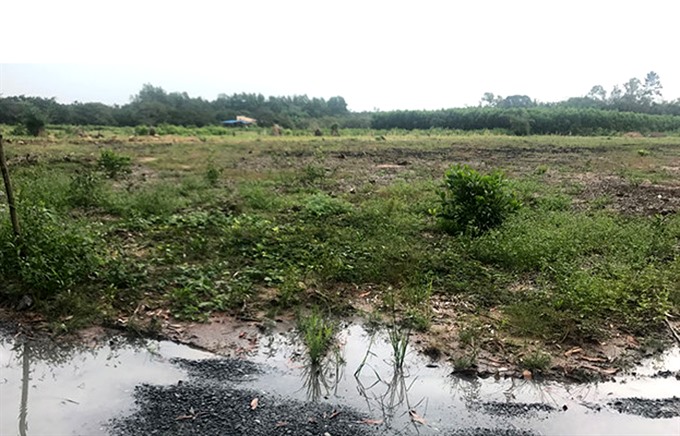 Viet Nam News
HCM CITY — The People's Committee of Đồng Nai Province has instructed the provincial police to investigate the sale of house foundations by Alibaba Real Estate Joint-Stock Company in the province's Long Thành District.
Alibaba Real Estate advertised plots with foundations on social media. The real estate projects were located near the planned Long Thành International Airport, which was connected to National Highway No 51. However, none of the projects have been licensed.
Many customers and real estate investors paid deposits on plots of land in Long Thành District, hoping to have a property near the airport.
Chairman of the district People's Committee Võ Tấn Đức said no real estate projects by Alibaba were licensed in the district, and asked customers to be careful when considering purchasing land from the company.
Đức said Alibaba had advertised projects covering over 60 hectares of land in the communes of Phước Bình, Phước Thái, Long Phước and An Phước, which are all located near the planned airport.
In Hamlet Four of Phước Bình Commune, the company advertised a 5.5ha project named Alibaba Centre Park II with over 340 house foundations. Đức said a woman from Bình Dương Province who is the director of real estate company Tia Chớp, had sold foundations through "co-operation contracts". But in recent inspections, Long Thành District authorities found that no licence had been granted to the projects.
In Long Phước Commune, inspectors found that Alibaba had leveled the ground and developed infrastructure to build a 20ha residential project and had put house foundations in the area up for sale.
In An Phước Commune, Alibaba has mapped out a 20ha residential area without any licence. The company planned to build the "Lilama International Residential Area" on a plot of land owned by another resident, said Đức.
A spokeman for the People's Committee said Alibaba had "colluded" with land owners for "co-operation contracts" before leveling the ground and putting plots up for sale without a licence.
He said customers should contact the local authorities before making decisions in the area.
Đặng Minh Đức, Director of Đồng Nai Province's Department of Mineral Resources and Environment, said Alibaba had not fulfilled land procedures such as land recovery and had not filed environmental impact reports.
According to provincial authorities, the real estate company is headquartered at 353 Điện Biên Phủ Street in Ward 15 of Bình Thạnh District in HCM City, with Nguyễn Thái Lĩnh as the company's director. In May 2016, the company registered for business with charter capital of VNĐ1 billion. It was raised to VNĐ20 billion in December 2016 and VNĐ1,600 billion in September 2017.
In November 2017, the HCM City Department of Natural Resources and Environment issued a warning to customers and secondary real estate investors about the illegal activities of Alibaba Real Estate Joint-Stock Company and Alibaba Tây Bắc HCM City Joint-Stock Company.
The HCM City Real Estate Association also issued a warning about inaccurate information about the two companies, which claimed to be investors in housing projects. The companies sold housing plots illegally and collected deposits from customers.
The city's Tây Bắc Urban Area management board sent a document to the city's People's Committee about illegal land sales on a project in HCM City.
The management board said the project was one of 133 announced at an investment promotion conference in HCM City on October 11.
The housing project, covering more than 92 ha, is located in the Tây Bắc urban area in Củ Chi District's Tân Phú Trung Commune. It was expected to provide healthcare and other urban services. However, site clearance and compensation have not been completed, and technical infrastructure was never built. Traffic infrastructure projects connecting it with surrounding areas are still waiting for investors. The project does not have detailed planning, making it impossible for any company to divide the land into smaller plots for sale.
"The city's People's Committee had not completed procedures to choose the investor, so Alibaba had no right to call themselves investors and sell plots or collect deposits," said the Department report. — VNS