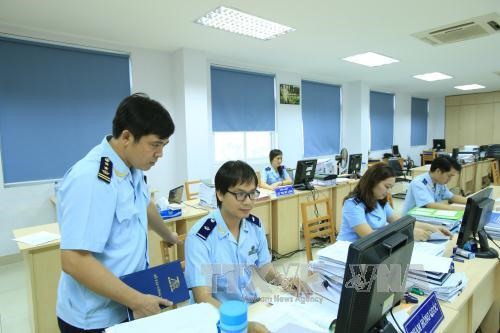 The number of types of goods subjected to customs inspection will be reduced and regulations be simplified. – VNA/VNS Photo Hoàng Hùng
Viet Nam News
HCM CITY — Customs inspections paperwork will be reduced, while procedures and services will be improved to aid firms' operational activities, experts said during a conference in HCM City yesterday.
There have been changes to reduce the number of types of goods that need to be inspected, and to invest in high quality facilities and a skilled workforce for better inspections and other procedure changes to aid firms.
Đặng Vũ Thành, deputy chairman of the Việt Nam Logistics Business Association, said that despite ongoing changes to improve customs and inspections, inspections were too frequent and too lengthy.
"Indiscriminate inspections of imported goods have wasted resources and goes against Việt Nam's goal of promoting global trade."
He said inspections of imported goods should take into account the firms' reputation to prioritise businesses that have adhered to regulations. Customs officials should consider the types of goods involved and identify risk potentials. More criteria for exemptions should also be considered.
Nguyễn Quốc Thanh, deputy head of General Department of Customs' IT and Custom Statistics Department, said the department would "reduce paperwork and applications in favour of online channels like websites and mobile apps to save cost." This tactic would gather user feedback to improve online services and raise awareness of the benefits of online channels.
Customs staff training and acquiring hi-tech equipment for inspections would also improve the situation.
The Ministry of Finance would work with relevant departments and look into further reducing the list of goods that are subject to inspection to only include products that pose environmental or economic threats. The department would also remove unnecessary steps from the customs process. — VNS