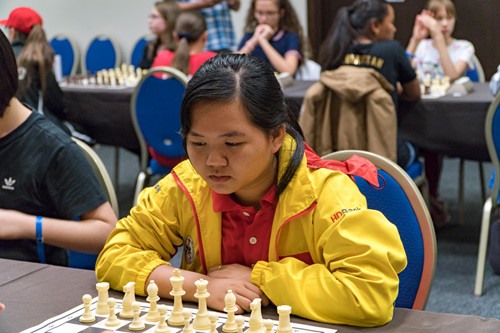 Bạch Ngọc Thùy Dương won in the U16 fast chess category at the World Youth Chess Championship 2018. — Photo baomoi.com
Viet Nam News
HÀ NỘI — Việt Nam's young talent Bạch Ngọc Thùy Dương won in the U16 fast chess category at the World Youth Chess Championship 2018, held yesterday morning in Halkidiki, Greece.
Dương, Elo 1,661, had an unexpected successful competition starting with 3 winning sets, beating second seed Aleksandra Maltsevskaya from Russia, Elo 2,194.
In the fourth set, Dương drew to first seed Goltseva Ekaterina, Elo 2,203 and lost to fourth seed Getman Tatyana, Elo 2,080 in the fifth set.
Overall, the 15-year-old scored 7.5 points and was named champion.
At Olympiad 2018, Dương was the youngest player from Việt Nam and was awarded the silver cup for the new face of the tournament. She also won at the U16 Asian Youth Chess 2018, and ASEAN Youth Chess 2018. — VNS