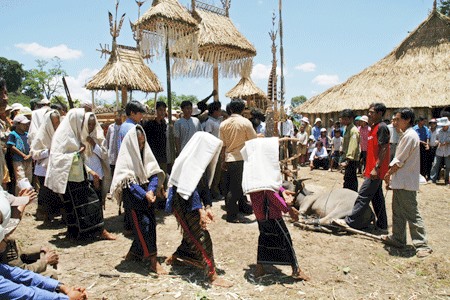 Ethnic groups in Bình Thuận will participate in the third Central Ethnic Culture Festival in Quảng Nam in August. — Photo dulichvn.org.vn
Viet Nam News
HÀ NỘI — Thirteen provinces will participate in the third Central Ethnic Culture Festival on August 15 in the central province of Quảng Nam.
They include the central provinces of Thanh Hóa, Nghệ An, Hà Tĩnh, Quảng Bình, Quảng Trị, Thừa Thiên Huế, Quảng Nam, Quảng Ngãi, Bình Định and Phú Yên and the three south central provinces of Khánh Hòa, Ninh Thuận and Bình Thuận.
Themed Central Ethnic Culture Identity Preservation and Development in the Integration Period, the festival will be held from August 15 to 17 with a wide range of activities, such as an amateur music festival, ethnic costume show, exhibition, sports and tourism promotion. The festival will also offer visitors varieties of cuisine.
The highlight will be the performance of traditional rituals.
The opening ceremony of the festival will be held at 8pm at 24-3 Square in Tam Kỳ City and will be aired live on Việt Nam National Television.
The festival aims to honour the cultural values and diversity of 54 ethnic groups in Việt Nam. It will provide an opportunity for artisans, traditional art performers and athletes to meet and exchange their experiences to preserve the traditional cultural values of ethnic groups in the central region. — VNS